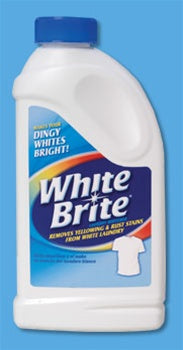 Laundry Whitener
White Brite (formerly Yellow Out)
Laundry Whitener
Makes Your Dingy Whites Brite!
Removes yellowing, dinginess and rust sains in laundry due to aging and problem
water.
Effective on white laundry, delicates and more.
Removes color runs caused by mixed loads.
Will not harm fabrics like bleach.
Safe for all fabrics including cotton, silk, wool, and synthetics.
---
PRODUCT INFORMATION
White
Brite is a unique laundry additive and booster designed to remove
yellowing and dinginess caused by aging and by the rust and iron in
your water supply. White Brite is safe and can be used on all washable
white and colorfast fabrics and can be used along with your regular
detergent.
White
Brite will also remove or lighten tough stains such as transferred dye
and color runs caused when white fabrics are mistakenly washed with
colored items. White Brite is tough on stains but will not harm fabric
like chlorine bleach. Used regularly, White Brite will prevent rust
build-up and discoloring, keeping fabrics their whitest. White Brite
does not contain dangerous acids or abrasives. Do not use with bleach
or peroxide.
AVAILABLE SIZES: 22 oz., 30 oz. & 5 lb.
---
CLEANING TIPS
Please follow cautions and instructions on the label carefully.

How do I use White Brite with white clothing?

-White Brite can work wonders in white clothing, first, be sure to
separate any clothing with a dye or color in it from strictly white
clothing. ALL COLORED ITEMS MUST BE TESTED FIRST.

DIRECTIONS FOR USE:

WHITE CLOTHES & FABRICS: WASHER METHOD
1. Add 1/2 cup of White Brite as washer is filling (for front loading machines add White Brite to the detergent drawer).

2. Once washer is full, add clothes and let soak for 5 minutes, if possible, by stopping machine.

3. Add your detergent and wash - dry as usual. Note: Do not use with bleach or peroxide.

WHITE CLOTHES & FABRICS: PRE-SOAK
1. Use a plastic container.

2. Mix 1/2 cup White Brite into 1 gallon of warm water.

3. Soak stained white clothing in solution for 20 minutes.

4. Wash as usual.

COLORED LAUNDRY OR EMBROIDERY: WASHER METHOD
Test all colors before using to avoid discoloring or
bleeding onto other clothes. If acceptable, wash each item separately
using the instructions for white clothes (above). Note: Product may
permanently damage colors and embroidered logos that cannot be
corrected.
Free Shipping on Orders of $75.00 or More*
If the items in your order qualify for 'Free Shipping' and total $75.00 or more, your order ships FREE* and is applied to your cart at checkout! Order under this amount will be charged flat rate shipping of $14.95.
Learn more about our shipping policy to Alaska, Hawaii, and International shipping here. 

*Free shipping to the Contiguous United States. (Lower 48 states only. Does not include Alaska or Hawaii.)