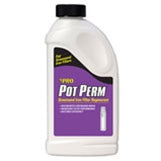 Greensand Iron Filter Regenerant

**SIGNATURE REQUIRED ON DELIVERY**


PRO-POT PERM (Potassium Permanganate)

**SIGNATURE REQUIRED ON DELIVERY**

Pot Perm is a strong oxidizing agent. It converts dissolved iron and/or manganese into insoluble oxides, which can be easily removed by filtration. Pot Perm regenerates and oxidizes greens and iron filter media. While there are many methods of introducing permanganate to the filter, one method is to make a solution and apply automatically or manually at regular intervals.


Applications


For each cubic foot of filter media, 2-4 oz. dry permanganate is suggested. It may be added directly to the filter or mixed with water and added as a solution. Eight ounces of permanganate will dissolve in one gal. of water at room temperature (68F). Normal procedure for regenerating an iron filter is usually specified by the filter manufacturer or supplier and depends on water conditions.



Features and Benefits


Pot Perm is composed of National Sanitation Foundation (NSF) certified material to meet Standard 60: Drinking water treatment chemicals.
Available in two grades: Free Flowing and Coarse.
Stains can be removed from the skin with a simple mixture of 30 parts of 3% USP hydrogen peroxide and 40 parts of 5% food-grade white vinegar with 30 parts of water.



Technical Information


Pot Perm comes as dark purple crystals or granules with a metallic luster. The solubility of Pot Perm is temperature-dependent and adjustments should be made for varying ambient temperature ranges.


Storage and Handling



Store in a cool, dry area in closed containers. Protect containers against physical damage. Segregate from acids, peroxides, and all combustible, organic, or easily oxidizable materials. Read relevant Material Safety Data Sheet before handling this product.
Free Shipping on Orders of $75.00 or More*
If the items in your order qualify for 'Free Shipping' and total $75.00 or more, your order ships FREE* and is applied to your cart at checkout! Order under this amount will be charged flat rate shipping of $14.95.
Learn more about our shipping policy to Alaska, Hawaii, and International shipping here. 

*Free shipping to the Contiguous United States. (Lower 48 states only. Does not include Alaska or Hawaii.)