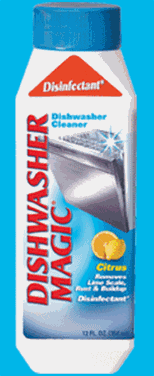 Dishwasher Magic

Dishwasher Cleaner & Disinfectant

A clean dishwasher equals clean dishes! Removes mineral build-up and disinfects your dishwasher The only EPA approved dishwasher cleaner and disinfectant proven to kill 99.9% of germs in the dishwasher. Removes rust & calcium build-up that can clog water jets. Safe for all dishwasher model interiors and plumbing and septic systems. Use Dishwasher Magic once a month to disinfect, ensure optimal cleaning and to prevent build-up.

Dishwasher Magic - Because your dishwasher doesnt clean itself. Dishwasher Magic safely and effectively removes lime scale, iron and food stains that can build-up inside the dishwasher with every use. By using Dishwasher Magic regularly you will extend the life of your dishwasher and improve its cleaning performance.

Dishwasher Magic is the only dishwasher cleaner that kills 99.9% of bacteria like e-coli and salmonella! (gram-negative bacteria)

Recommended usage: once a month to ensure optimal cleaning and prevent buildup.

AVAILABLE SIZES: 12 fl. oz.

CLEANING TIPS
Please follow cautions and instructions on the label carefully.
Must Be Used With Empty Dishwasher.

1. Remove cap. DO NOT REMOVE WAX PLUG. Wax plug will dissolve when the water temperature reaches 125 F (dispensing the cleaner).

2. Place bottle upside down inside the silverware basket or in secure position in the bottom rack.

3. Do not use with any soap or dishwasher detergent in an empty dishwasher.

4. Close dishwasher door, set to normal wash cycle and start dishwasher.

5. After full cycle is complete and dishwasher is off, remove and discard bottle.

For heavy build up, a second application of Dishwasher Magic may be required.

Use Dishwasher Magic once a month or more frequently if required to prevent buildup.
Free Shipping on Orders of $75.00 or More*
If the items in your order qualify for 'Free Shipping' and total $75.00 or more, your order ships FREE* and is applied to your cart at checkout! Order under this amount will be charged flat rate shipping of $14.95.
Learn more about our shipping policy to Alaska, Hawaii, and International shipping here. 

*Free shipping to the Contiguous United States. (Lower 48 states only. Does not include Alaska or Hawaii.)