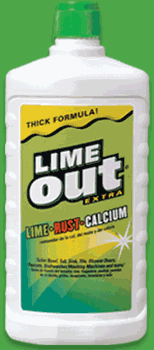 Dissolves tough lime, calcium and rust stains.
Dissolves tough lime, calcium and rust stains.

Lime Out Extra - Attacks lime, rust and other hard water deposits.

Dissolves tough calcium, lime and rust stains. Nonabrasive formula won't scratch surfaces.

PRODUCT INFORMATION
Lime Out Extra is heavy-duty, with more cleaning power than other leading brands. The non-abrasive liquid is specifically formulated to quickly dissolve tough lime, rust, calcium and mineral deposits.

Use Lime Out Extra in bath, kitchen and laundry areas. It leaves toilets, sinks, tubs and showers fresh and clean without heavy scrubbing. Regular use helps prevent lime, rust or calcium build-up.

A special thickener has been added to Lime Out Extra to help it cling to vertical surfaces. Lime Out Extra works effectively on tubs, sinks, showers, shower doors, toilets, chrome, fiberglass, stainless steel, pots, pans and tea kettles.

Lime Out Extra is specially formulated with a low ph, organic salt, non-abrasive chemicals, and surfactants for safe and effective cleaning. This tough cleaning action eliminates any abrasive scrubbing that could harm surfaces.

AVAILABLE SIZE: 24 fl. oz.

CLEANING TIPS
Please follow cautions and instructions on the label carefully.

TOILET BOWL - Squirt generously on stains and let soak. Brush and flush clean. Rinse brush. Repeat if needed.

TUB, SINK, TILE, SHOWER DOORS, FAUCETS - Mix with an equal amount of water. Use full strength on tough stains. Apply with damp sponge or cloth. Rinse promptly and thoroughly. Foaming may occur as lime scale is dissolving.

DISHWASHER/WASHING MACHINES - Apply to interior of machine with sponge or cloth. Run empty machine through a rinse cycle. Repeat for heavily stained machines.

OTHER USES - Cookware, Tea Kettles, Humidifiers, Fiberglass Boats. Follow same directions as Tub, Sink, Tile, ETC.

NOTE: Depending on the quality of material, this product may etch or discolor some stainless steel, chrome, brass, or aluminum fixtures. Do not use on natural marble, stone, terrazzo, plastic laminates or colored grout. This product is not recommended for older, worn or chipped porcelain fixtures, glass or ceramic tile. Test a hidden area before using and/or use half strength to avoid potential damage. As with most cleaners, allow only enough contact time as necessary to do the job. Rinse promptly and thoroughly when done.
Free Shipping on Orders of $75.00 or More*
If the items in your order qualify for 'Free Shipping' and total $75.00 or more, your order ships FREE* and is applied to your cart at checkout! Order under this amount will be charged flat rate shipping of $14.95.
Learn more about our shipping policy to Alaska, Hawaii, and International shipping here. 

*Free shipping to the Contiguous United States. (Lower 48 states only. Does not include Alaska or Hawaii.)