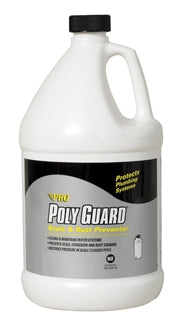 Extended Release Corrosion Control
Poly Guard Liquid - Prevent Hard Water Stains

Rust & Scale Preventer


Pro Poly Guard Scale & Rust Preventer (Liquid) is specifically
formulated to prevent hard water stains, including scale and iron
staining in commercial, industrial and residential potable water
applications. Poly Guard forms a protective coating on metal and plastic
surfaces preventing hard water stains, scale, corrosion and copper
leaching. To eliminate hard water stains, inject Poly Guard by chemical
feed pump into the raw water system as close to the source as possible.
This product is NSF Certified to meet NSF/ANSI Standard 60 for drinking
water additives.
Available in 1 gal, 5 gal and 55 gal sizes.
---
Applications for Hard Water Stains

Corrosion Control:To get rid of hard water stains, Poly Guard is applied
through a chemical feed pump downline from the well pump. Poly Guard is
normally fed at a rate of 1 gallon per 200,000 gallons of
water. The feed rate should increase to 1 gallon per 100,000 gallons in
above normal iron and corrosion water supplies. Follow the procedure for
injecting Poly Guard solution into the water system as specified by the
chemical feed pump manufacturer or supplier.

Free Shipping on Orders of $75.00 or More*
If the items in your order qualify for 'Free Shipping' and total $75.00 or more, your order ships FREE* and is applied to your cart at checkout! Order under this amount will be charged flat rate shipping of $14.95.
Learn more about our shipping policy to Alaska, Hawaii, and International shipping here. 

*Free shipping to the Contiguous United States. (Lower 48 states only. Does not include Alaska or Hawaii.)