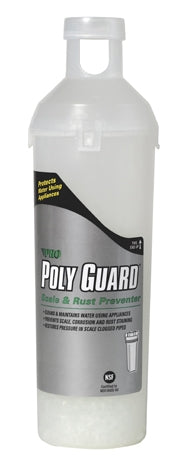 Extended Release Corrosion Control

Poly Guard Cartridge - Prevent Hard Water Rust

Scale & Rust Preventer


Looking for a solution to hard water rust? Pro Poly Guard slowly
releases food grade (Crystals) into the water supply, protecting
plumbing and water using appliances from corrosion and hard water rust
and extending the life of plumbing and appliances by coating the
interior walls. This coating of the plumbing also reduces the leaching
of copper and lead into drinking water. Poly Guard sequesters hard water
(maximum 12 grains per gallon hardness), reducing scale build up, and
sequesters low levels of iron (maximum 1 part per million iron),
reducing hard water rust staining. The Poly Guard Cartridge will treat
approximately 30,000 gallons of water depending on water conditions.
Temperature range 40-125 F (4.4-37.8 C). This product is NSF Certified to meet NSF/ANSI Standard 60 for drinking water additives.

Available in 1.5 lb size.


---
Hard Water Rust Applications

Corrosion Control: Poly
Guard Cartridge fits 10" standard whole house filter housings. The
cartridge will hold 1.5 pounds of crystal and treat up to 30,000 gallons
of water. These crystals will not dissolve completely and should be
replaced in 30,000 gallon intervals or every 6 months to ensure product
efficacy.
Free Shipping on Orders of $75.00 or More*
If the items in your order qualify for 'Free Shipping' and total $75.00 or more, your order ships FREE* and is applied to your cart at checkout! Order under this amount will be charged flat rate shipping of $14.95.
Learn more about our shipping policy to Alaska, Hawaii, and International shipping here. 

*Free shipping to the Contiguous United States. (Lower 48 states only. Does not include Alaska or Hawaii.)