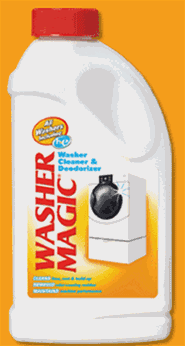 Washing Machine Cleaner
WASHER MAGIC
Removes abrasives harmful to laundry.
Keeps washing machines working their best.
Cleans lime, rust & build-up.
All washers including hE.
Maintains machine performance.
Reduces abrasive build-up harmful to laundry.
PRODUCT INFORMATION
WASHER MAGIC is a revolutionary product specifically formulated to
safely and effectively clean any washing machine, including high
efficiency front loaders (he).
Why Use WASHER MAGIC?
Every time you wash your clothes, hard water and detergents causes lime
scale and rust to build up inside the tub, pump and hoses. This
build-up reduces the ability of your washing machine to perform.
Mineral build-up acts as an abrasive increasing the wear on your
clothes. The result: your clothes are not as clean as they could be and
wear out sooner.
If
you are unhappy with the way your clothes comes out of the wash, then
WASHER MAGIC may be the solution you have been looking for. Only WASHER
MAGIC can restore the family washing machine to the way it performed
when it was new.
AVAILABLE SIZES: 24 fl. oz.
CLEANING TIPS
Please follow cautions and instructions on the label carefully.

1. Add entire bottle to washer.

2. Close door, start machine using a normal wash cycle (recommended
hottest water temperature). A second application may be needed if odors
persist or if build-up does not disappear.

Note:
Washer Magic can also be used to clean the rubber seal around the door
and the detergent drawer. Simply pour a small amount onto a clean cloth
and wipe the rubber seal around the door and the detergent drawer. Then
rinse thoroughly with a damp cloth. Do not add clothing or detergent
when using Washer Magic.
Free Shipping on Orders of $75.00 or More*
If the items in your order qualify for 'Free Shipping' and total $75.00 or more, your order ships FREE* and is applied to your cart at checkout! Order under this amount will be charged flat rate shipping of $14.95.
Learn more about our shipping policy to Alaska, Hawaii, and International shipping here. 

*Free shipping to the Contiguous United States. (Lower 48 states only. Does not include Alaska or Hawaii.)