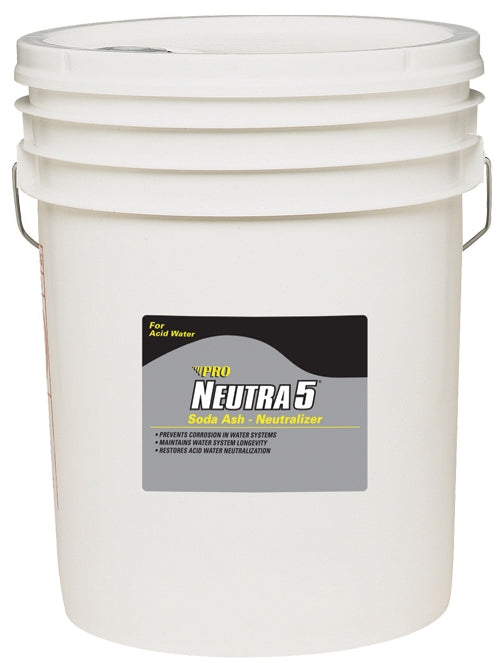 Acid Water Neutralizer & Tannin Remover
NEUTRA-5

Neutra-5 is a highly alkaline compound which neutralizes the acid found in some water systems. This helps to eliminate corrosion from piping, pressure tanks, water heaters, and fixtures, giving your system longer life. A Neutra-5 solution injected into your water system will neutralize acid water and eliminate corrosion problems. Neutra-5 can also be used to remove tannins from a tannin-type water softener, and may be used in a potable water system.


Applications

Neutralizing Acid Water:

The feed rate of Neutra-5 depends on the acidity of water. Proper dosage is reached when the pH of the treated water is between 7.0 and 8.0. Follow procedure for injecting Neutra-5 into your water system by the chemical feed pump manufacturer or supplier.

Cleaning Tannin Water Softeners:

Mix 1 cup of Neutra-5 with 1 qt. of water and pour into salt storage tank on weekly basis.

Features and Benefits

The most satisfactory method of correcting an acidity problem is to automatically feed a Neutra-5 solution into the water. This solution may be fed into the water supply with a chemical feed pump. It chemically combines with the acid water to completely neutralize it.

Tannins are harmless organics resulting from water passing through peaty soil and decaying vegetation. Neutra-5 will rid the mineral bed of tannins by swelling the beads which helps the tannins fall off the beads. Also, Neutra-5 increases the pH which will keep the tannins in a more soluble state and help the exchange process.
Free Shipping on Orders of $75.00 or More*
If the items in your order qualify for 'Free Shipping' and total $75.00 or more, your order ships FREE* and is applied to your cart at checkout! Order under this amount will be charged flat rate shipping of $14.95.
Learn more about our shipping policy to Alaska, Hawaii, and International shipping here. 

*Free shipping to the Contiguous United States. (Lower 48 states only. Does not include Alaska or Hawaii.)