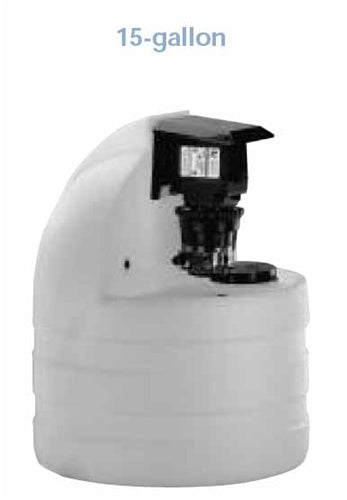 The STS Tank System Combines a Pump & Tank - Fully Assembled!
Product Description
The 85MHP17 tank system includes a tank and 85MHP17 pump shipped pre-assembled
for easy installation and convenience.
The 85MHP17 is a single head adjustable
output pump with a maximum of 17gpd (64 lpd) at 100 psi (6.9 bar).
---
Materials
Tank:
Polyethylene, certified to NSF/ANSI 61
Lid with child resistant lock:
Polypropylene
Dimensions
15-gallon: 20 1/2 OD x 25 1/4 in (52.1
OD x 64.1 cm)
Shipping
Weight
15-gallon: 27 lbs (12.3
kg)
---
The main feratures of the Stenner 85MHP Pump:
Adjustable
output dial allows for 2.5% increment changes in dosage
Total
capacity of 17 gallons of feed per day, or between 0.3 to 17 gpd
Allows for
pressures of up to 100psi
Uses the
Stenner #2 Pump Tube
Here's why Stenner is #1 in chemical injection pumps:
Peristaltic design that is
self-priming and also wont lose prime
Can run dry without
damage
Chemicals are metered
without exposure to air
Pumps gaseous
solutions
Pump tubes Accept a variety
of chemicals
Pump head Universal with
all Stenner pumps
Snap fit modular
subassemblies - quick serviceability without tools!
Interchangeable pump tubes
are easilty replaced
Adjustable feed rate
controllers keeps dosage within 98% accuracy
Manufactured since 1957, so
they are time tested, and professional approved!
Each Stenner pump includes the following accessories:
3 - Connecting Nuts (1/4")
3 - Ferrules (1/4")

1 - Injection Check Valve
(100 psi) OR (1) Injection Fitting (25 psi)
1 - Suction Line Strainer
(ceramic weight included)
1 - 20' Roll of
Suction/Discharge Tubing 1/4" or 3/8" white or UV black
1 - Spare Pump
Tube
1 - Mounting
Bracket
1 - Installation and
Maintenance Manual
Free Shipping on Orders of $75.00 or More*
If the items in your order qualify for 'Free Shipping' and total $75.00 or more, your order ships FREE* and is applied to your cart at checkout! Order under this amount will be charged flat rate shipping of $14.95.
Learn more about our shipping policy to Alaska, Hawaii, and International shipping here. 

*Free shipping to the Contiguous United States. (Lower 48 states only. Does not include Alaska or Hawaii.)