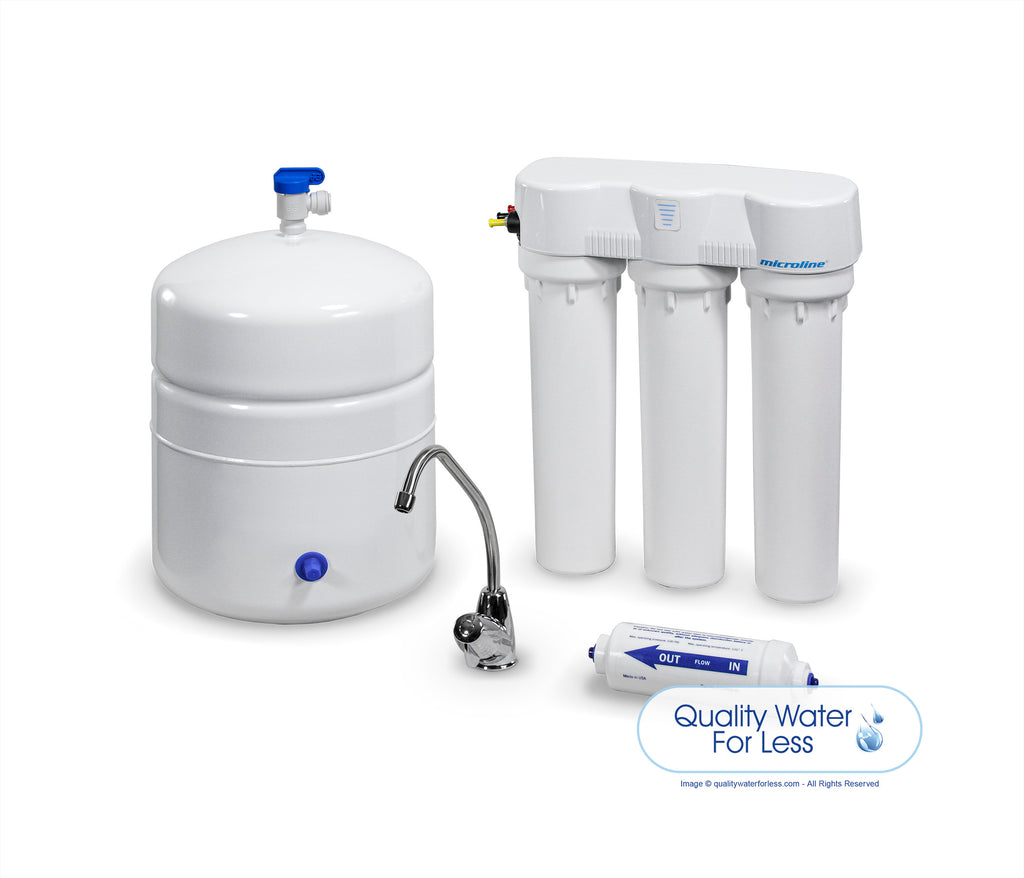 Microline TFC-435: 4-Stage Reverse Osmosis System & TFC Membrane

•
TFC 50 Gal/Day Membrane
•
Made for all water types (well or chlorinated city water)
•
Ships Complete with all filters and membrane
•
For use with all Microline series filters and membranes
•
NSF Listed
•
ASSEMBLED IN THE USA!
The elite of the Microline Systems. The T.F.C.435 R.O. System features such benefits as four stages of filtration for the ultimate in clean, fresh tasting water as well as larger tubing to provide faster water flow to the Microline faucet. In the Microline T.F.C.435 R.O. System, water first enters the system through the Sediment/Carbon Prefilter. This specialized filter protects the automatic shut off and Membrane from clogging with debris and is also designed to reduce chlorine, to protect the refined T.F.C. Membrane. Water then travels to the operational center of the systemthe T.F.C. Membrane. This is where the Reverse Osmosis of the Microline R.O. System happens.
Some Benefits

•
Delicious, sparkling clear drinking water and pristine cooking water
•
Cleanly rinsed fresh fruits and vegetables
•
Nourish your plants and flowers with fresh water
•
Cost-effective. The daily cost of bottled water will no longer be a concern
•
Convenient. Fresh, clean water, ready at your tap
Thin Film Composite Membrane (T.F.C.) is the technology of choice, producing high quality drinking water at a fast rate. Since T.F.C. Membranes are not chlorine resistant, the advanced Microline T.F.C. system features a sediment carbon prefilter. The carbon prefilter is designed to reduce the concentration of chlorine in feed water, in order to protect the Membrane, allowing T.F.C. systems to be installed on both municipal and private well supplied water systems.
Included Accessories

R.O. Manifold Assembly

Housings and Housing O-rings
Drinking Water Holding Tank

Dispensing Faucet
Feed Water Saddle Valve

Drain Clamp
Plastic Tubing and tube connectors

Reverse Osmosis Membrane sealed in a plastic bag (S1229RS)
Sediment/Carbon Prefilter, shrink wrapped (S7028)

Activated Carbon Post Filter, shrink wrapped (S7025)
InLine Activated Carbon Post Filter, shrink wrapped (S7206W-JG)

Filter Change Wrench
R.O. System Cover

Water Quality Test Kit
System Specifications

Water Pressure:
40 - 100 PSIG
Water Temperature:
40 - 100°F
Water pH Range:
34 - 11 (Optimal from 7.0 - 7.5)
Maximum TDS Level:
2000 ppm
Hardness:
< 170 mg/L(< 10 grains/gal)
Iron:
< 0.1 mg/L
Manganese:
< 0.05 mg/L
Hydrogen Sulfide:
< 0 mg/L
Membrane Production:
41 - 53 gal/day
Storage Tank Capacity:
~1.8 gallons
Limited Warranty:
System - 5 years; Membrane - 1 year
System Dimensions:
14 x 4 x 14 inches
Tank Dimensions:
9 x 9 x 14 inches
Shipping Weight:
20 lbs
CAUTION: Do not use with water that is micro biologically unsafe or of unknown quality, without adequate disinfection before or after the system. Systems certified for cyst reduction may be used on disinfected water that may contain filterable cysts.
Free Shipping on Orders of $75.00 or More*
If the items in your order qualify for 'Free Shipping' and total $75.00 or more, your order ships FREE* and is applied to your cart at checkout! Order under this amount will be charged flat rate shipping of $14.95.
Learn more about our shipping policy to Alaska, Hawaii, and International shipping here. 

*Free shipping to the Contiguous United States. (Lower 48 states only. Does not include Alaska or Hawaii.)